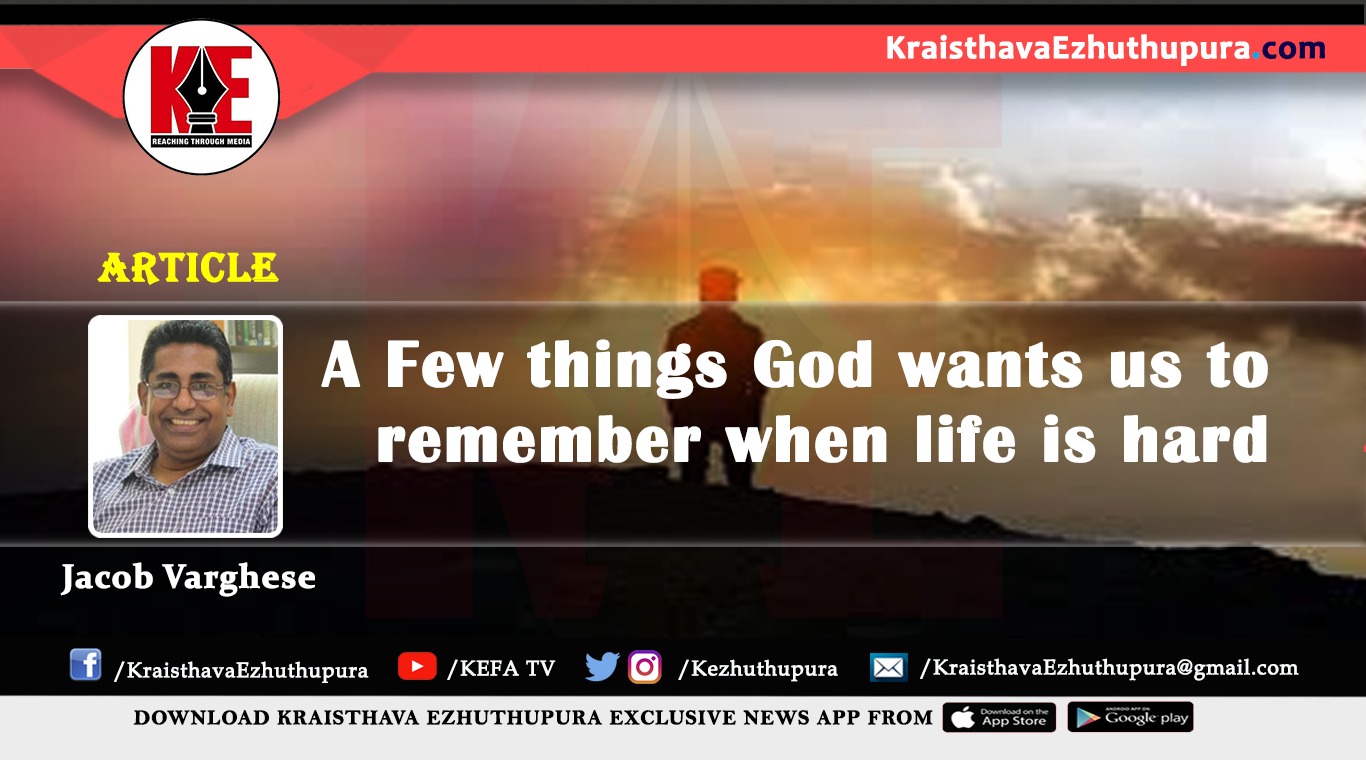 Article: A Few things God wants us to remember when life is hard | Jacob Varghese

Is there anyone here who has not gone through any hard times or difficulties in life? I am sure we have all had days (and maybe even years) when life just doesn't seem to be going our way. When people experience hardships in life, they often ask themselves, "Why is this happening?" I have had long seasons of life where I felt like nothing was working and everything was against. I have had frustrating days where I just could not get anything accomplished. But those of us who base our life upon the biblical values may affirm the truths: Life is hard, there is a God, God is good and God is all-powerful. When I look back to my life, all that Jesus has done for me challenges me to live my life to a higher standard than a family member, a neighbour or a co-worker who might not know Jesus. In the midst of all that difficulties and hardships we go through, God wants us to remember a few things.
Remember that our Character should always be stronger than our Circumstances.

We can't always control what happens to us, but we can always control how we choose to respond. In those moments of difficulties, if we choose to stop complaining and instead to give thanks to God for the good in our life, it will help us to see through the difficulties and endure the hard times. Choose to keep a positive attitude and thankful heart, regardless of what you are going through. Be thankful for all the small things in our life, because when we put them all together we will see how significant they are. At the end of the day, it is not happiness that makes us thankful but thankfulness that makes us happy. Happiness is not the absence of problems, but the ability to deal with them. Life is better when we are smiling. Being positive in a difficult or negative situation is not immature; it is a sign of our strength. We are doing it right when we have so much to cry and complain about, but prefer to smile and appreciate life instead. 1 Thessalonians 5:16-18 says "Rejoice always, pray continually, give thanks in all circumstances; for this is God's will for you in Christ Jesus."
Remember that our Struggles always lead us to Strength, Faith & Perseverance.
Every difficulty in our life, whether big or small, is something God uses to produce more strength, faith and perseverance in us if we let Him! All our pain has a purpose. Faith in God and in His guidance through the Holy Spirit will sustain us in an increasingly more challenging world. We all feel the need of assurance in times of uncertainty and testing. A fundamental purpose of earthly life is our growth and attainment. Consequently, there must be times of trials and difficulty to provide opportunity for that development. No child could ever grow to be self-supporting in maturity were all the critical decisions are made by parents, so it is with our Heavenly Father. His plan of happiness is conceived so that we will have challenges, even difficulties, where decisions of great importance must be made so that we can grow, develop, and succeed in this mortal life. Romans 8:28 says "And we know that in all things God works for the good of those who love him, who have been called according to his purpose."
Remember that God's timing is always perfect.

God's plans are almost always different from our plans, but His plans are always perfect! Have the patience to wait on His timing instead of forcing our own. God has given us the capacity to exercise faith, that we may find peace, joy, and purpose in life. There is no more solid foundation than faith in the love Heavenly Father has for you, faith in His plan of happiness, and faith in the capacity and willingness of Jesus Christ to fulfil all of His promises. For some of us, faith is not understood and consequently not used to full advantage. Are you the one who has tried to exercise faith and has felt no benefit? If so, you likely have not understood and followed the principles upon which faith is founded. Some of those principles are:
Trust in God and in His willingness to provide help when needed, no matter how challenging the circumstance.
Be patient and understanding when God lets you struggle to grow and answers come a piece at a time over an extended period.
Motivating faith is centred in trust in the Lord and in His willingness to answer our needs. The consistent, willing exercise of faith increases our confidence and ability to employ the power of faith.
Jeremiah 29:11 says "For I know the plans I have for you declares the Lord; plans to prosper you and not to harm you, plans to give you hope and a future."
Remember that God will never leave our side.
In the midst of hard times, it is easy to look around and see a bunch of people who seem to be doing just fine. We may feel like we are going through the struggle all alone, but from the moment we ask Jesus to bring us into God's family, He will be there by our side to the end, so never lose hope! As Deuteronomy 31:6 says "Be strong and courageous. Do not be afraid or terrified because of them, for the Lord your God goes with you; he will never leave you nor forsake you." The Lord knows our needs. When we ask with honesty and real intent, He will prompt us to do that which will increase our ability to act in faith. With consistent practice faith will become a vibrant, powerful, uplifting, inspiring force in our life. Faith is not just like push a button and we get the answer. It is comforting to know that God will never try us more than we can manage with His help.
God uses our faith to mould our character. Character is the manifestation of what we are becoming. Strong moral character results from consistent correct choices in the trials and testing of our life. Our faith can guide us to those correct choices. Clearly, it is what we do and what we think that determine what we are and what we will become. Therefore, the choices we make need to be inspired by the Lord. Others can encourage us to take the right decisions, but those choices must not be prescribed by them. We need to ponder, pray, and exercise our faith to willingly make choices consistent with the teachings of the Master.
Why worry about the future calamities or uncertainties over which we have no control? When challenges and testing do come, our faith will lead us to solutions. Our peace of mind, our assurance of answers to disturbing problems, our ultimate joy depend upon our trust in Heavenly Father and His Son, Jesus Christ. I can testify through my life that faith in God and in His guidance through the Holy Spirit will sustain you in an increasingly more challenging world. There are many around us who are confused and are seeking solutions to life's perplexing problems. We should share our testimony of truth and the power of faith with them. Help them understand how faith in God and in His teachings, restored in their fullness in our lives, can bless their lives now, in these turbulent times.
One of life's greatest gifts is the fact that life is difficult. In dealing with life's difficulties we build invaluable strength. This strength enables us to successfully fulfil our deepest and most meaningful purposes. When times are tough, do not pray for an easy life; instead pray for the strength to endure the hardships. Remember that our Character should always be stronger than our Circumstances knowing well that our Struggles always lead us to Strength. Remember that God's timing is always perfect and God will never leave our side.
JACOB VARGHESE