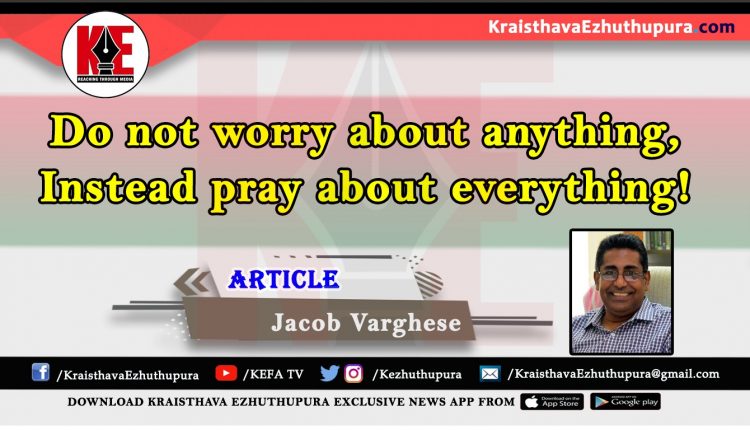 Article: Do not worry about anything, Instead pray about everything! | Jacob Varghese

Philippians 4:6 says "Do not be anxious about anything, but in every situation, by prayer and petition, with thanksgiving, present your requests to God" All of us are being violently shaken by Corona virus outbreak. In a world experiencing dangers of every kind, it's comforting to know that God tells us in His word "Do not worry about anything, instead pray about everything." Whatever is troubling you, be it a minor frustration to a major fear-talk to God about it. He cares, He is interested in hearing from you and He wants to help you. If we pray about it then we won't worry about it. So we have a choice; pray or worry. There are so many things today that cause us to worry and fear. It begins as a thought and then creates emotions that can rule us. Now people started worrying about what is after lockdown? Covid-19 lockdown to be relaxed soon, then what? Can we start again our life as earlier or how to go forward? There have been tremendous gains and improvements in the situation due to lockdown till now. To ensure that these gains are not fruitless, the lockdown guidelines should be strictly observed even after lock down is relaxed. I think we need to continue with our new style of life we have developed during this lockdown period for the sake of our health and the health of our nation. It is really true that "HEALTH IS WEALTH". All of us want to be living in a healthy world and supporting the vulnerable ones; none of us can guarantee that this Pandemic will be over soon.

We are all social beings by nature, sooner or later after Lockdown is lifted we will start socializing and we will not be safe until and unless the environment is safe, as every one of us is the part of this environment. We being Christians instead of we seem to be withdrawing to safety along with the call to love and put on Christ first, we have a responsibility to the state as well as to the society we live, a call to good works as we submit to various authorities and along with that we must wrestle with it because we know our sinful instincts of self-protection. We should read and understand the historical actions and concerns of those driven by the love of Christ in past outbreaks of plagues. Let's pray that their examples of faith will be used by God to stimulate our courage and faith driven love for others. It is worth noting that there is a difference between being those who risk infection out of love and concern of others, versus being those irresponsible by our presence without following social distancing for making the infection worse. So, we need wisdom and godliness to discern between love and foolishness. In other words, love must be discerning and our presence may not always be the best way to love. I personally believe the Pandemic lockdown was God send for the Indian Church and it could also spark the revival in India. Indian churches have been praying for the Lord to enlarge their borders, and the Lord has answered with an unexpected opportunity to reach more people. With the suspension of public gatherings due to lockdown church worship has affected. It is not a case of leaving the church but it is a format that tries to take the church from a building to people's homes. The first house church is recorded in Acts 1:13, where the disciples of Jesus met together in the "Upper Room" of a house. House churches, a form of fellowshipping that gets back to the church basics. From the first church in Acts of the Apostles, temples and synagogues were a place for public teaching and discussion, but the real church life and work was in homes. (Acts 2:46, 5:42, 8:3, Rom 16:5) This is the direct opposite of the church today which is more interested in church building projects. But even in history, when Christians faced persecution by the Roman Empire, and later by the state, homes became the main places they could fellowship. The challenge that churches now face is developing new tools for follow-up and discipleship in this changed situation. We were too busy doing the Lord's work and did not think of this before on such innovations if the lockdown had not happened. Many churches also did not have adequate resources or tools to reach their neighbors of other faiths who had no interest in Jesus Christ.

I believe the church has been ushered into a new age of growth and engagement with each other. I think we need to pray this prayer regularly: "Jesus Christ, Son of the living God, have mercy on me, a sinner." Let us pray it continually and joyfully, as a way to keep moving and growing toward eternity and our full life in God even after the lock down is relaxed. Let us replace our anxiety with this prayer. Oh Lord, come to my assistance, make haste to help me. Open my heart to your love Lord and increase my faith. I belong to you, oh Lord Jesus, my light and my love. Lord, let your will be done through my life.
Please turn your attention with me to Matthew 6:25-34, in this passage, Jesus recognized the basic needs of every man. Jesus is talking about our worries of life, clothes, food, and of our future. In Jesus' time, the average life expectancy of an individual did not exceed 40 years due to sickness and hardships of life. Continuous supplies of food and clothes were rare and considered a luxury. People were often worried and anxious about how to meet these needs. Anxiety, worry, distress, agitation, tension, irritability these are words that describe a feeling of an inner turmoil that result in a feeling of outward uneasiness. The words describe a common feeling among humans as we consider what the future may bring to us personally and to the ones we love. Let us face it; this emotion is used to motivate us to do all sorts of things. The world around us says the future is uncertain and we have all reasons to worry. Common feelings and emotions that affect our outward look on life, our decision making, and ultimately the direction of our lives. Jesus addresses this issue in Matthew 6:19-34. Jesus does not want us to be anxious and full of worry. He wants us to live our life in a different manner. He does not want us making decisions based on a fear of the future. He wants the direction of our lives established on eternal truths rather than temporal things of earth.
In Matthew 6:19-21 Jesus centers in on the issue of what we value the most. If we treasure the things of earth, then our heart will be set on them, and the direction of our life will be to gain in the things of earth. If we treasure the things of heaven, then our heart will be set on heavenly things, and our life will be spent in gaining reward in heaven. Jesus uses this truth to lead into the discussion of the next section of this passage that we cannot serve two masters, or more accurately, we cannot be a slave to two masters. We will either be a slave to God or we will be a slave to the things of earth. That is a principle we can build upon. If God is our master, then He is the one who will take care of us. If the things of earth are our master, then we will rely on them for our future. It is precisely at this point that we find the cause of anxiety. We will not be anxious if we follow verse 20-" but store up for yourselves treasures in heaven, where moths and insects do not destroy, and where thieves do not break in and steal." The treasure we accumulate in heaven is protected by our master and therefore safe. We can be at peace. If our master is the things of this world, if we serve mammon, then there is no security and worry and anxiety will always be present. If we put our security in material things or money, it is going to make us worry. If on the other hand our master is God, then we can be secure and at peace because He will provide and protect.
Notice how Jesus introduces Matthew 6:25-34 which we will concentrate upon in this study. He says, "Therefore." What is the "therefore" there for? In light of what Jesus has already said about making sure that the master we serve is God, we are now to obey the command and then take security in the promises of our master. The command Jesus gives in verse 25 is based upon the principle given in the verses prior. The command is built on the principle that God is to be our master. We are to serve Him and set our hearts upon heaven rather than on the things of earth.
"Don't worry about it." Have you ever heard those words said to you? Did it work? Probably not! Easy words to say, but hard to put into practice, is n't it? In essence that is what the Scripture says in verse 25. But it goes on to tell us how not to worry. It is one thing to tell someone "Just don't worry about it", but it is another thing to tell them how they are supposed to keep away from worrying about it! Be honest: we all worry, don't we? We worry about our family, children, their education, marriage and so on. Worry affects our total being! How can we stop worrying? Here Jesus is not giving us a suggestion but it is a command to stop worrying.
Here in the above passage Jesus told us to not to worry and He placed three reasons before us.
1. Wrong Priority: In Matthew 6:25 Jesus instructed his followers not to worry about the physical necessities. Very often our entire existence is focused on our needs. If God has given us life and a body, both admittedly more important than food and clothing, so will He not give us the latter? Jesus' argument, "Isn't there more to life than food and more to the body than clothing?" There are other important things in life that need priority. Why are you worrying about the lesser things? Your life is more important than the basic necessities-food, clothing and shelter.
2. God Provides: In Matthew 6:26-30 we see that. Birds probably are the least and the cheapest of God's creation. Look at Matthew 10:29, it says, are not two sparrows sold for a penny? Yet not one of them will fall to the ground outside your Father's care. Yes, God feeds them. Look at the grass, what is the common use for dry grass, is for just burning is n't it? Yet God clothes them with wild flowers every day. Jesus' point was simple but sensible. If God takes such good care of less important parts of his creation how much more He will take care of His people.
3. Indicates Disbelief: Matthew 6:31-32 God is already aware of our needs because He is omniscient. He meets the needs of his people on due time. Pagans don't trust God for provision. Hence their obsessions lie with acquiring enough daily commodities. Worry and anxiety are the fruit of little faith. Security is the fruit of faith anchored in God. Jesus wants us to put Him first in our life and seek Him first. Jesus is telling us we need to stop worrying.
Unlike the people in Jesus' time, we (most of us) are no longer worried about food, clothes or shelter. By God's grace there's plenty. Then what makes Jesus' words relevant to us? How do we understand what was said then and there, now and here? If Jesus lived among us today He would have said: "Don't worry about money and about your future." Jesus told His disciples "But above all pursue His kingdom and righteousness and all these things will be given to you as well." In other words, God will bless our finances, our health and our needs when we take care of His kingdom. If we take care of His business, He will take care of us. If we make Him our priority, we will become His priority.
How do we pursue God's Kingdom? We can contribute to the furtherance of His Kingdom on earth. There are three ways, we can make contribution.
(1) Prayer: We can pray that God's Kingdom will come in the mighty power of the Holy Spirit to save sinners, to destroy the works of Satan, to heal the sick and to magnify the name of the Lord Jesus Christ. You may refer to Matthew 6:10
(2) Involvement: We can get involved in God's work by spending our God-given abilities, skills and other resources for the edification of the church.
(3) Giving: Giving is a way of contributing to God's Kingdom. Tithing is a good start. It helps us to give systematically. In return God has promised to bless our finances. See, Malachi 3:10-12 bring the whole tithe into the storehouse, that there may be food in my house. Test me in this, says the Lord Almighty, "and see if I will not throw open the floodgates of heaven and pour out so much blessing that there will not be room enough to store it. I will prevent pests from devouring your crops, and the vines in your fields will not drop their fruit before it is ripe," says the Lord Almighty. "Then all the nations will call you blessed, for yours will be a delightful land," says the Lord Almighty.; 2 Corinthians 9:6-7 says remember this: Whoever sows sparingly will also reap sparingly, and whoever sows generously will also reap generously. Each of you should give what you have decided in your heart to give, not reluctantly or under compulsion, for God loves a cheerful giver.
Now the question is how do we pursue His righteousness? – with the aid of the Holy Spirit we must seek to obey the commands of Christ, possess Christ's righteousness, remain separated from the world and show Christ's love towards everyone. When we do that, God will bless our needs. Jesus repeated this principle in John 15:7 &16. If you remain in me and my words remain in you, ask whatever you wish, and it will be done for you. You did not choose me, but I chose you and appointed you so that you might go and bear fruit—fruit that will last—and so that whatever you ask in my name the Father will give you.
Lastly, worry over tomorrow's misfortune doesn't make any sense at all because today has enough to occupy our attention and God has given us the grace to meet the needs of that day (Matthew 6:34). This is a repetition of Exodus 16:19, Then Moses said to them, "No one is to keep any of it until morning. Besides tomorrows feared misfortunes may never happen and today's grace is sufficient only for today and should not be wasted on tomorrow. If tomorrow does bring new trouble, there will be new grace to meet it. Let's not forget however that Jesus did not mean that it is wrong to make provisions for future physical needs Jesus is not telling us not to plan for future or save for future but Jesus is telling us to trust Him and not to worry about our future. 2 Corinthians 12:14 says; now I am ready to visit you for the third time, and I will not be a burden to you, because what I want is not your possessions but you. After all, children should not have to save up for their parents, but parents for their children. 1Timothy 5:8 says anyone who does not provide for their relatives, and especially for their own household, has denied the faith and is worse than an unbeliever. What Jesus did forbid is anxiety and or worries that show lack of faith in God's fatherly care and love. So do not worry about your life, your clothes, and your food and of your tomorrow-future. But trust in God who can provide for all your needs.
JACOB VARGHESE