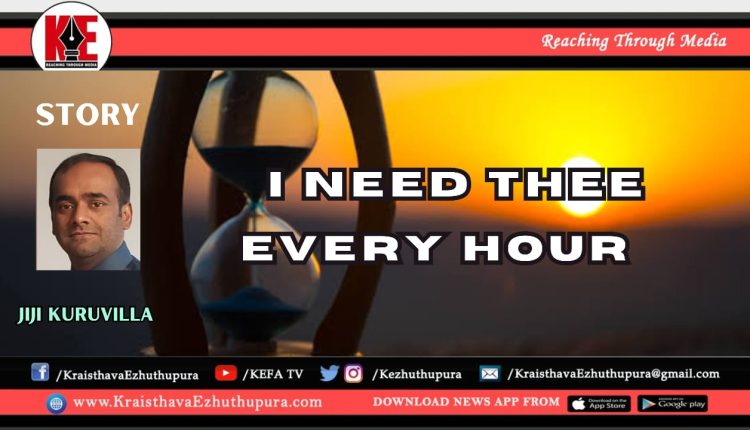 Hymn and Story: I Need Thee Every Hour | Jiji Kuruvilla

The hymn "I Need Thee Every Hour" was written by Annie Sherwood Hawks in the 19th century. Annie Sherwood Hawks was born on May 28, 1835, in Hoosick, New York, USA. She was a devoted Christian and an active member of the Methodist Episcopal Church. Despite facing various challenges and health issues, she found solace in her faith and expressed her devotion through her hymn writing.
The inspiration for "I Need Thee Every Hour" reportedly came to Annie Hawks during one of her regular moments of prayer and reflection. She wrote the lyrics in 1872, when she was 37 years old. The hymn is a heartfelt expression of the need for God's presence and guidance throughout all aspects of life. The words of the hymn reflect a sense of dependency on God's grace and a desire for His constant presence in times of joy, trials, and challenges.
Annie Hawks shared her hymn with her pastor, Dr. Robert Lowry, who was also a prolific hymn writer and composer. Dr. Lowry composed the music for the hymn, creating a simple and poignant melody that complemented the lyrics perfectly. The hymn was first published in 1872 in a collection titled "Morning and Evening Songs," which was a collaborative effort between Annie Hawks and Dr. Lowry.
"I Need Thee Every Hour" quickly gained popularity and became a cherished hymn in churches and gatherings. Its relatable theme of reliance on God's strength resonated with many, making it a staple in hymnals over the years.
The hymn's enduring appeal and timeless message have ensured its continued presence in various Christian denominations and worship services. Its profound simplicity and depth of meaning continue to touch hearts and inspire individuals in their spiritual journey.
"I Need Thee Every Hour" stands as a testament to Annie Sherwood Hawks' deep faith and her ability to convey profound spiritual truths through her hymn writing. The hymn's history is a reminder of how music has the power to convey emotions, beliefs, and devotion across generations.