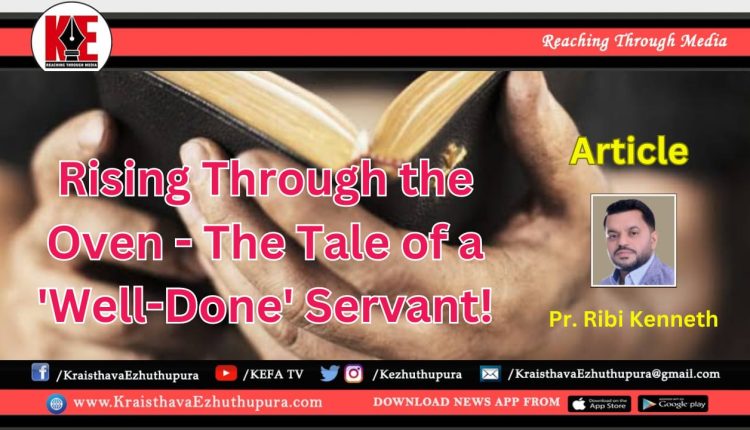 QUICK BITE: Rising Through the Oven – The Tale of a 'Well-Done' Servant! | Pr. Ribi Kenneth, UAE
A cake that has not been properly baked is bland and deserves to be thrown away. And God in His boundless love does not intend to toss us away into the trash can. Therefore, He may intentionally lead us on a journey that ensures that we become perfected into a tasteful composition.
When faced with obstacles and suffering, we will never be motivated if we choose to focus solely on the conditions and situations that surround us. What surrounds us is the fire that bakes us well, and focusing on the present may only lead to bitterness and despair, slowing our progression toward our goal.
The encouragement is that we are not without solutions, because what truly matters is the result of the baking. The journey is merely a tool for God to prepare us for what He, as the master craftsman, has in mind. As a result, we have to acknowledge that difficulties are the unavoidable good and that we must strive to discern God's will. This will allow us to experience the climax and achieve what God is aiming for as the perfect ending. This also implies that we must make His will our ultimate source of inspiration and attention, despite any existing discomforts. God has a good future and an ultimate goal in mind for us (Jeremiah 29:11), and He is in charge of seeing it through.
Do we have a witness we can rely on? Joseph's tale always inspires me. He persisted in his pursuit of the vision God had given him. The truth is that God revealed to him the good end but never the agonising path. So, even though he had done nothing wrong, Joseph was envied, reviled, stigmatised, and disowned by his brothers. He was sold as a slave, slandered by those he served, falsely accused, and imprisoned for things he was righteous about. What could go wrong? He was even forgotten by the people he aided during his difficult times. Despite this, Joseph's devout devotion and belief in God's sovereignty were unaffected by any of these circumstances. Finally, when God decided to unlock his prison gates, no one could stop Him, and God's flawless plan was carried out.
The baking procedure is required to transform the raw components into a tasty and enjoyable treat. Similarly, in life, doing the essential acts and going through the process is critical to carrying out God's purpose. Then we stand to receive God's commendation when He says to us, "Well done, good and faithful servant."
Are you being baked? The cake is what God is aiming for. Be pleased to persevere and believe till you are 'well-done'.
"I remain confident of this: I will see the goodness of the LORD in the land of the living. Wait for the LORD; be strong and take heart and wait for the LORD"( Psalm 27:13).