John Cherukara Samuel (63) went to be with the Lord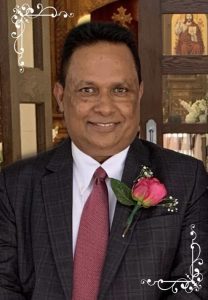 John Cherukara Samuel (Aniyankunju) was born to the late Samuel Cherukara Chacko and Kunjamma Samuel on May 13, 1960, in Vappala, Kerala, India. John was called home by the Lord, surrounded by loved ones on May 30, 2023. He was 63 years old.
John was a one of a kind husband, father, brother, uncle, friend, leader and child of God. John was born and brought up in The Pentecostal Mission where his strong faith in God was instilled. His unwavering dedication to his faith in Jesus Christ and compassion towards others serve as a testament to his legacy. John was hardworking and persevered through many transitions and trials in his life. He immigrated to New York in 1992, after marrying his wife Lizyamma in 1990. He continuously strived to grow professionally and successfully established his career in the Department of Social Services/Human Resource Administration. He was a pillar of strength and support for his family, offering steadfast love, guidance, and encouragement throughout their lives.
He is survived by his loving wife, Lizyamma Samuel, and his son, Joel, daughter-in-law, Christen and daughter, Janel. He is also survived by his brother Jacob Samuel and sister, Jessy Sam Alex and their families.